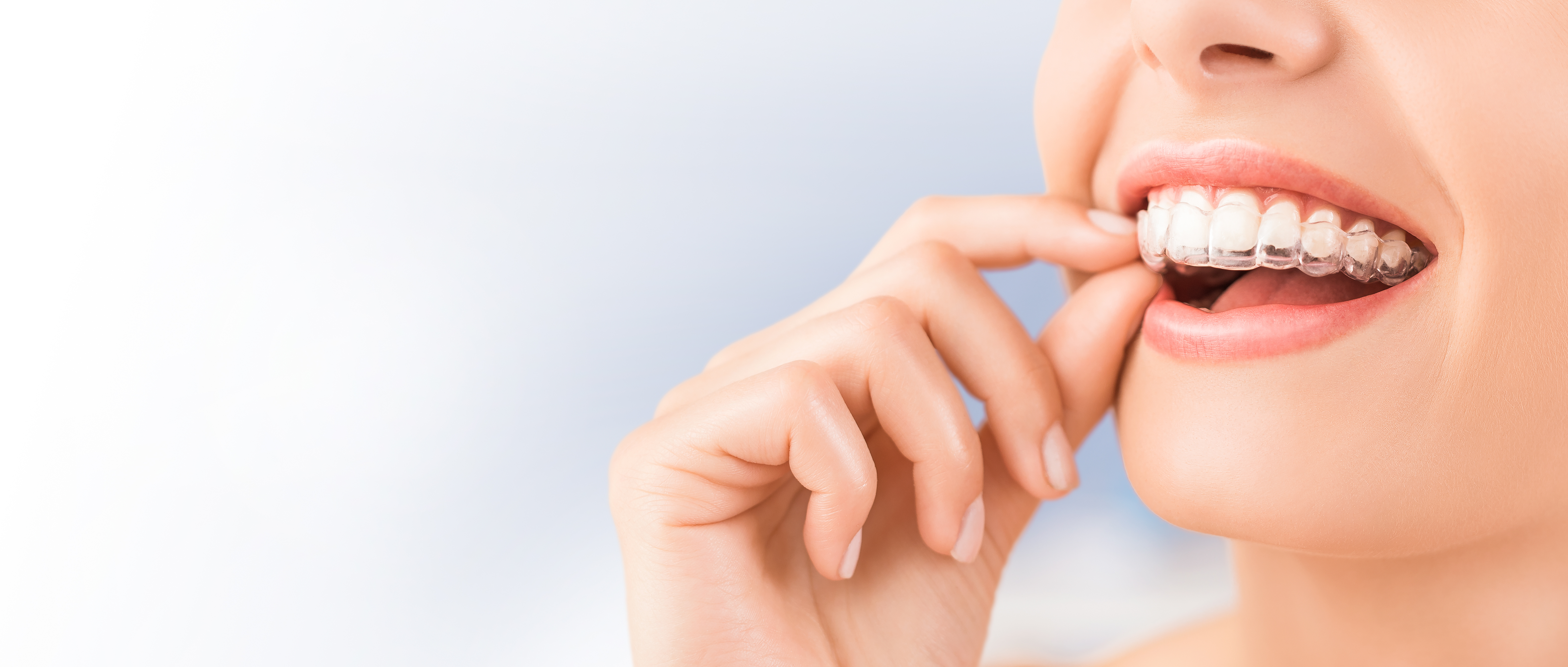 Braces have been around for many years and are the often-selected orthodontic appliance when it comes to straightening teeth.
However, in recent years, the revolutionary technology of Invisalign has come onto the scene, providing an alternative to the more visible braces. What is Invisalign? You may ask.
It is the invisible way to straighten teeth without braces! Using a series of clear removable aligners, Invisalign gradually straightens teeth without the use of metal or wires. With the use of 3D computer imaging technology, we are able to depict the entire treatment plan starting with the initial position and graduating to the final desired position. Using this information, a series of custom-made, clear "aligners" are made. These aligners are made of clear, strong medical grade plastic that is almost entirely invisible when worn. Each "aligner" moves your teeth incrementally and is worn for about two weeks before it is replaced by the next set in the series. This continues until your teeth have reached their final position.
About Invisalign
It is vital Invisalign is worn no less than 22 hours a day for the treatment to be effective. If you do not stick to this routine, your treatment will take longer than initially anticipated meaning that there is an amount of discipline required. They must also be removed when you are eating or drinking anything other than water in order to preserve them. Most patients are suitable for Invisalign treatment though there some cases where braces will offer better results.
Due to the movement in your teeth being very minute, there is almost no pain when wearing Invisalign. You can expect some tenderness though when you switch over to your replacement aligners, but this simply means that the treatment is working. You may experience some slight speech differences when you first insert Invisalign but once your tongue gets used to the way they feel, everything should return back to normal.
What are the benefits of Invisalign?
Invisalign is clear meaning that you can straighten your teeth without anyone else knowing
Invisalign is removable
You can eat and drink what you want during treatment unlike braces. You are also able to brush and floss normally to maintain good oral hygiene
Invisalign is comfortable because there are no metal brackets or wires to cause mouth irritation
Less pain because the treatment ensures gradual and gentle teeth movement
No metal or wires means that you spend less time at orthodontist getting adjustments. You only need to see your doctor approximately every 6 – 8 weeks
Invisalign allows you to view your own virtual treatment plan before you begin, allowing you to see how straight your teeth will be after treatment
Invisalign can also come with attachments that are used to treat more complex teeth movement.
What are the drawbacks?
Invisalign does offer more discreet benefits than any other orthodontic treatment – particularly braces, but in the end the decision on whether to make use of it will come down to the cost. Invisalign does cost more than regular braces with the final cost being dependent on the exact extent of alignment that your teeth require as well has just how many aligners your custom treatment will require. Dr Jude and her team are more than happy to work with you in creating an affordable payment place if necessary. The cost of treatment can be broken down over the duration of the treatment to make payment a little easier. We will give you a detailed quotation at your initial consultation visit.
For over 30 years Smart Smile Orthodontics in Strathpine has been helping patients receive top dental care. We pride ourselves on using the latest technology in orthodontics, helping you achieve the perfect smile. To book an appointment please call (07) 3889 8355
Don't forget to share this via Twitter, Google+, Pinterest and LinkedIn.